11. What does the term "technical names on" refer to in SAP Basis or SAP security?
a) This is the list of names of Basis users -- it can be displayed if you get the prompt: "Contact your system administrator".
b) This is a profile-generator menu option that puts the technical name of the authorization object next to the long text, so the required authorization name can easily be identified.
c) This is a parameter that needs to be set to on for Early Watch Reports and Alerts.
d) This is a reference that was used for viewing ABAP security codes in older versions of SAP (prior to version 4.6x).
ANSWERS: B
"Technical names on" is a menu option from profile generator (PFCG) that shows the authorization object names. This will be shown in the right-hand column of the from menu option Utilities -> Technical Names On. The example below shows a role with the expanded authorizations. These names are easy to search on if you're trying to modify a role to fit needed authorizations to a role.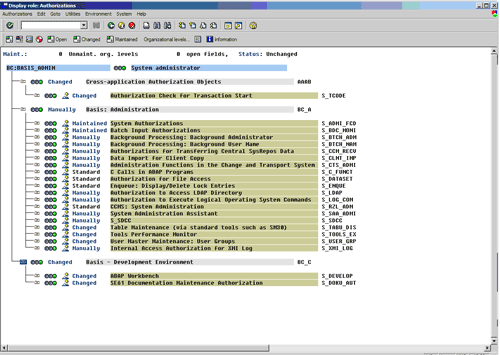 Return to the answer page
Return to the quiz
This was first published in February 2006