There appears to be no central information source on all the installation and configuration steps of the JD Edwards adapter, or instructions on how to create a scenario for calling a business function in a JD Edwards system. Until now, that is, thanks to this in-depth guide by SDN member Yomesh Sharma.
Think of integrating with an SAP system. You can have your IDoc and RFC interfaces imported directly into XI, but is it that simple in case of any third party ERP?
The diagram below shows the process of importing RFC interfaces in XI.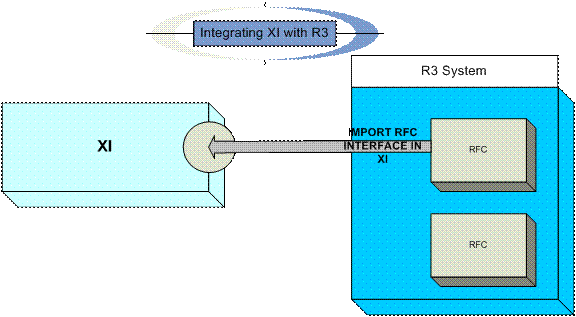 For comparison, let's look at the case of JD Edwards:
As we have RFCs and BAPI in SAP, we have business functions in JDE. The business functions in case of JDE are written in a JDE-specific language. There is a tool called as GenJava provided by JD Edwards itself, which we can use to create a JAR file of the business function. The output for GenJava produces fully functional Java objects based on the library you use to generate wrappers.
GenJava packages these objects in a single JAR file such as XXXInterop.jar or XXXXInteropDoc.jar, where XXXX is the name of function which we provide from the command line. For example the command can be as follows:
GenJava /Cat 1 /UserID Devuser1 /Password Devuser1 /Environment DV811 CAEC.
Along with the adapter IWAY, it also provides a servlet application called as application explorer which creates XML schema definitions (XSD) for the generated Java objects. Using the servlet "application explorer", we can create request and response schemas (XSD) for that particular Java function. Thus, we get the XSD files for request and response which we can import in external definitions in the integration repository. For one thing, that shows the advantage of being on open standards.
Steps for configuring and using the JDE adapter are as follows:
1. JD Edwards adapter software installation.
2. Add JDE specific files to iwxijca_JDEdwards.sda.
3. Deploy the adapter.
4. Registering the adapter in SLD.
5. Logging and trace settings.
6. Deploying application explorer.
7. Create request and response schemas for the business function.
8. Configuring a scenario in XI.

We'll discuss these steps in part 2.
---
This content is reposted from the SAP Developer Network.
Copyright 2006, SAP Developer Network
SAP Developer Network (SDN) is an active online community where ABAP, Java, .NET, and other cutting-edge technologies converge to form a resource and collaboration channel for SAP developers, consultants, integrators, and business analysts. SDN hosts a technical library, expert blogs, exclusive downloads and code samples, an extensive eLearning catalog, and active, moderated discussion forums. SDN membership is free.
Want to read more from this author? Click here to read Yomesh Sharma's weblog. Click here to read more about Exchange Infrastructure on SDN.

---
This was first published in June 2006