SAP, started in 1972 by five former IBM employees in Mannheim, Germany, states that it is the world's largest inter-enterprise software company and the world's fourth-largest independent software supplier, overall.

Download this free guide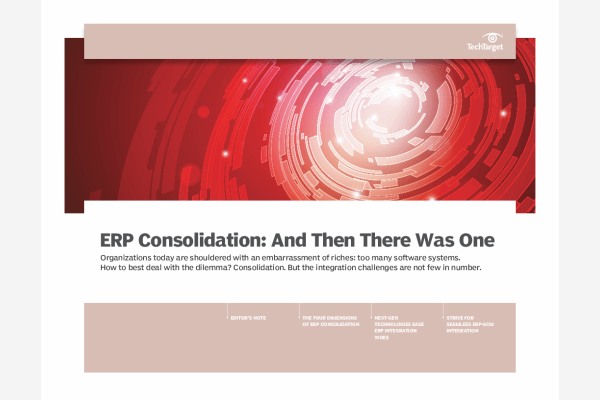 The Four Dimensions of ERP Consolidation
Organizations today are shouldered with an embarrassment of riches: too many software systems. How to best deal with the dilemma? Consolidation. But the integration challenges are not few in number.
By submitting your personal information, you agree that TechTarget and its partners may contact you regarding relevant content, products and special offers.
You also agree that your personal information may be transferred and processed in the United States, and that you have read and agree to the Terms of Use and the Privacy Policy.

The original name for SAP was German: Systeme, Anwendungen, Produkte, German for "Systems Applications and Products." The original SAP idea was to provide customers with the ability to interact with a common corporate database for a comprehensive range of applications. Gradually, the applications have been assembled and today many corporations, including IBM and Microsoft, are using SAP products to run their own businesses.
SAP applications, built around their latest R/3 system, provide the capability to manage financial, asset, and cost accounting, production operations and materials, personnel, plants, and archived documents. The R/3 system runs on a number of platforms including Windows 2000 and uses the client/server model. The latest version of R/3 includes a comprehensive Internet-enabled package.
SAP has recently recast its product offerings under a comprehensive Web interface, called mySAP.com, and added new e-business applications, including customer relationship management (CRM) and supply chain management (SCM).
As of January 2007, SAP, a publicly traded company, had over 38,400 employees in over 50 countries, and more than 36,200 customers around the world. SAP is turning its attention to small- and-medium sized businesses (SMB). A recent R/3 version was provided for IBM's AS/400 platform.
Continue Reading About SAP
Dig Deeper on SAP trends, strategy and ERP market share
PRO+
Content
Find more PRO+ content and other member only offers, here.