Q
Evaluate
Weigh the pros and cons of technologies, products and projects you are considering.
Can I get global coverage in SuccessFactors Employee Central Payroll?
Combining Employee Central Payroll with multi-country payroll outsourcing is often the best way to cover workforces of widely varying sizes across the globe.
Payroll is a critical aspect of every organization. I like to call it the ultimate system of engagement, since...
Continue Reading This Article
Enjoy this article as well as all of our content, including E-Guides, news, tips and more.
By submitting your personal information, you agree that TechTarget and its partners may contact you regarding relevant content, products and special offers.
You also agree that your personal information may be transferred and processed in the United States, and that you have read and agree to the Terms of Use and the Privacy Policy.
no other level of engagement equals that of being paid. For global organizations that operate across multiple countries, managing payroll can be a difficult and unwieldy task. With varying sizes of populations in each country and a multitude of payroll vendors, it can take a significant amount of effort to maintain all of the integrations and ensure data consistency throughout your payroll landscape.
Typically, a positive ROI on SuccessFactors Employee Central Payroll is only really achievable when the employee count in each country exceeds 1,000. If you have multiple countries with populations under 1,000, the business case for using Employee Central Payroll for these countries -- or at all -- can be challenging, even if it is the right option for larger countries. And although at the time of writing Employee Central Payroll covers 41 countries, many users have employees in countries not in the list of 41.
Multi-country payroll outsourcing often the answer
Multi-country payroll outsourcing (MCPO) is a way to cover the countries that can't be covered on Employee Central Payroll. MCPO is an end-to-end managed payroll option whereby the payroll vendor provides coverage for multiple countries on its own aggregation platform, often for populations of 1,000 employees or less (often referred to as the tail or long tail). These vendors are often referred to as aggregators. There are a number of MCPO vendors in the marketplace, such as Celergo and CloudPay.
The figure depicts the relative positions of the long tail and Employee Central Payroll in the payroll landscape.
The other advantage of using an MCPO provider is that only one interface is needed from Employee Central to the MCPO vendor's system to replicate employee data, and only one interface is needed back to your finance system to post the results of the payroll. You only need one contract with the MCPO vendor to cover all countries, thus consolidating payroll costs and the administrative burden of paying multiple vendors. Support is also handled through a single channel, again avoiding the burden of dealing with multiple payroll vendors. Additionally, you can often perform consolidated reporting in the MCPO vendor's system and have the vendor handle statutory filings and audits in each country.
For consolidated reporting of payroll results from both Employee Central Payroll and the MCPO vendor, you can use the standard Payroll Results Export object and build an integration to populate the object with the MCPO vendor's payroll results. (Functionality already exists to populate it with payroll results from Employee Central Payroll.) You can then use the online report designer and a standard report to view the payroll results from across your payroll landscape.
Let's examine a quick example to see how this looks. The table shows a customer that has 13,500 employees across 12 countries.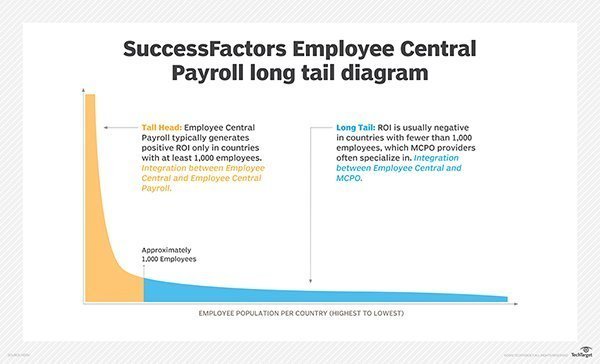 As you can see, Employee Central Payroll can clearly accommodate the United States, Germany and Mexico. However, the remaining countries fall below the threshold and will be managed only by an MCPO vendor. Even countries with as few as 13 employees can usually be handled by an MCPO vendor.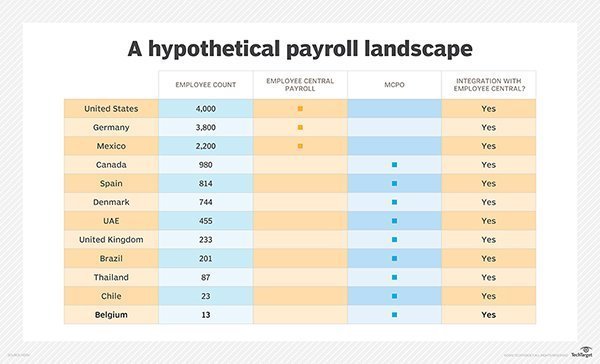 Where does MCPO sit in SAP's payroll strategy?
The good news is that SAP is fully aware of the MCPO concept and partners with a number of MCPO vendors. In recent presentations at the SAPPHIRE NOW and SuccessConnect London conferences -- as well as at SuccessConnect Vienna last year -- SAP promoted MCPO as a complementary option for Employee Central Payroll and as one of its four pillars of payroll alongside Employee Central Payroll, SAP ERP Payroll and Managed Payroll. While not all sales executives across SAP are aware of the option, customers can request information and support from SAP if they require an MCPO option.
For global organizations with a varying number of employees in each country in which they operate, being able to simplify and effectively manage payroll is important for their ongoing digital and HR transformation initiatives, while also reducing costs and complexity.
Dig Deeper on SAP HR management
PRO+
Content
Find more PRO+ content and other member only offers, here.
The higher upfront costs of SAP SuccessFactors Employee Central Payroll don't seem so bad when you consider the fees charged by competing payroll ...continue reading
SuccessFactors Presentations can merge static PowerPoint slides with dynamic, real-time information from the SuccessFactors talent management system....continue reading
Avoid wasting time with SuccessFactors support by communicating the right information about your issue. Here's what support representatives typically...continue reading
Have a question for an expert?
Please add a title for your question
Get answers from a TechTarget expert on whatever's puzzling you.