Currently the Organization Management (OM) structure is configured for a US company. How do I add on another country structure to the existing OM? Any tips or tricks?
Requires Free Membership to View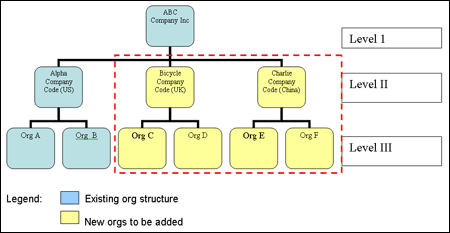 The ABC Company Inc. is one of many options with which the org structure can be set up that involve global deployments. This example is the most simplified way to allow flexible movements within the organization (in the event of M&A, where drag and drop can be used).
This example allows authorization to be applied at level II to restrict viewing of sensitive data if necessary. Analytics could be filtered at level I, level II and/or level III. And in the event of local or global merger and acquisition (M&A), drag and drop can easily be used via PPOME view.
So when you look to add new organizational units to your existing structure for global deployment, keep in mind the authorization, reporting and the ease of M&A locally.
This was first published in January 2007